Top Tips for Selling Your Home Quickly and for Top Dollar
Posted by Jennifer McBride on Thursday, August 31, 2023 at 7:06:39 AM
By Jennifer McBride / August 31, 2023
Comment
Top Tips for Selling Your Home Quickly and for Top Dollar
Are you a home seller looking to make a swift and profitable sale? The key to success lies in thorough preparation before listing your property. To help you achieve the best results, we've compiled a list of essential tips that will make your home irresistible to potential buyers. Follow these steps to ensure your home stands out in the market and fetches the price it deserves.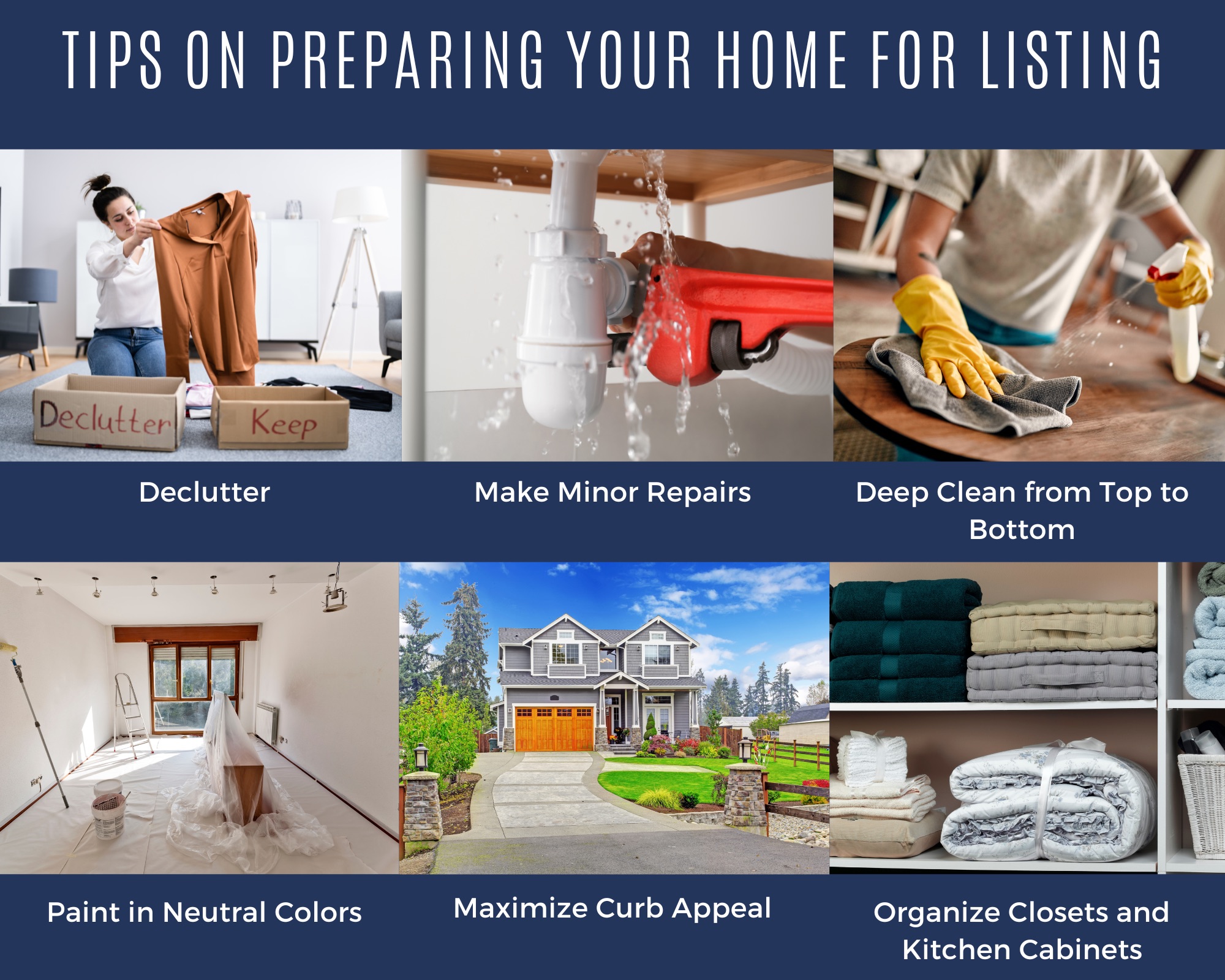 1. Declutter and Create Space
Start by decluttering every room in your home and removing excess furniture. Clear out personal mementos and items that could distract buyers from envisioning their own life in the space. By creating an open and clean environment, you allow potential buyers to picture themselves living comfortably in the house.
2. Tackle Minor Repairs
Addressing minor repairs can significantly impact the appeal of your home. Fix leaky faucets, patch up any holes in the walls, address squeaky doors, and update outdated light fixtures. These small fixes might seem inconsequential, but they can make a noticeable difference in how buyers perceive the overall condition of the property.
3. Deep Clean for a Sparkling Impression
A spotless home is a must when trying to attract buyers. From scrubbing walls and baseboards to steam cleaning carpets and power washing outdoor areas, a thorough deep cleaning can leave your home looking refreshed and well-maintained. A clean space not only appeals to buyers but also gives the impression that your home has been well cared for.
4. Opt for Neutral Paint Colors
If your home's current color scheme is bold or personalized, consider repainting in neutral tones. Light, neutral colors create a blank canvas that allows potential buyers to visualize their own design preferences. This small investment can have a significant impact on making your home more appealing to a wider range of buyers.
5. Boost Curb Appeal
First impressions matter, and that's why enhancing your home's curb appeal is crucial. Clean up the landscaping, add potted plants or flowers, repaint the front door, and ensure that walkways and porches are well-swept. The exterior of your home sets the tone for what's inside, so make sure it entices buyers to explore further.
6. Organize Closets and Cabinets
Well-organized storage spaces can create the illusion of a larger, more functional home. Take the time to tidy up closets and kitchen cabinets, ensuring that they appear spacious and well-maintained. Buyers often value ample storage, so showcasing this feature can be a big selling point.
Preparing your home for listing requires effort, but the results are well worth it. By following these tips, you'll increase your chances of attracting serious buyers and receiving offers that reflect the true value of your property.
If you're seeking expert guidance in getting your house ready for the market, we're here to help. Our team is more than happy to provide additional tips and assistance to ensure your selling journey is a success. Don't hesitate to reach out for support.
Ready to take the next step and determine the optimal market price for your home? Fill out your information here for a personalized evaluation. We'll help you understand how much your home can potentially fetch in the current market.
Remember, a well-prepared home is a desirable home. Invest the time and effort now for a smoother and more rewarding selling experience. Your dream sale is within reach!